Our History
Hookerton, along with Greene County, can trace its beginnings to Contentnea Creek.  Prior to the Revolution, the community was known as Caswell's Landing for Benjamin Caswell, Governor Richard Caswell's brother, who owned an inspection station at his landing here.  As a brief aside, today the site of Caswell's Landing is in the heart of Hookerton's downtown, and plans are in the works to add a boat ramp and recreation area there.

The town was the home of the Greene County Academy, which was established in 1804, as well as the county's first library—established in 1817. This is the same year in which the town was incorporated.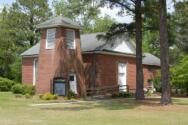 Hookerton is the home to the second oldest Christian Church in North Carolina.  Built in 1860, the simple revival building has an unusual detached belfry.  Legend has it that the builder's sweetheart was afraid of heights and refused to let him work on top of the church roof, thus resulting in the separate structure.  Although, it could just be a matter of the belfry being constructed years later and it proved simpler to build it detached.  Whatever the reason, the construction is unique and quite interesting.  The building, along with the belfry, was brick veneered in 1948 and still services the community.